Location:
In order to initiate the party quest, you need to head to Kerning City and talk to Lakelis.
PQ Requirements:
The level requirement is 21 to 30 and you need to have a party of four people in that range of levels to enter.
Additional information:
The time limit of the party quest is 30. The party quest consists of 5 stages and a bonus.
Stage 1:
Monsters:
For this stage, each party member, except the leader, should talk to Cloto. She asks a different number related question to each party member and you need to collect the same number of coupons as the answer to the question. If you forget the question, you can click her again and she will tell you. The coupons are dropped from ligators spread around the map. The number of coupons can range between 3 and 35 for each party member, so during this time the leader should have started killing ligators for them to drop.
Once you have collected them, talk to Cloto again. You need to have the exact number of coupons as asked in the question. She will take the coupons and give you one yellow pass. Give this pass to your leader. When the leader receives all 3 passes, the stage can be cleared.
In order to speed this stage up, all party members should help to collect coupons, even if they have the pass.
NOTE: If a party member disconnects or dies during this stage, the total number of passes needed automatically drops to 2 to clear the stage.
The questions that Cloto may ask and the number of coupons needed are:
How many SP points do you get when you level? 3
How many AP points do you get when you level? 5
What is the total number of SP earned as a beginner? 6
How many members can be in a party? 6
At what level can you advance to a magician? 8
At what level can you advance to a thief, pirate, warrior or archer? 10
How much experience do you need to get to level 2? 15
How much INT needed to become a magician? 20
How much DEX needed to become an archer or a thief? 25
How much STR needed to become a Warrior? 35
Stage 2:
This stage is basically just 4 ropes. Each party member should choose one rope and hang on it while the leader should stay at the bottom and click the NPC to find the right combination of ropes.
If you look at the ropes as being lettered A to D, and they take the following form:
A B
C D
The combinations can be as follows:
A B
C -
(Member on B moves down to D)
A -
C D
(Member on A moves across to B)
- B
C D
(Member on C moves up to A)
A B
- D
Where for each combination, a party member is hanging on each of the lettered ropes.
Stage 3:
This stage is yet another combination stage. There are five platforms that are valued 1 to 5 by the number of cats on each. Three members should stand platforms to find the right combination.
The combinations are as follows:
123, 124, 125, 134, 135, 234, 235, 245, 345
Stage 4:
And ANOTHER combination stage – same concept, more numbers.
The combinations to this stage are:
123, 124, 125, 126, 134, 135, 136, 145, 146, 156, 234, 235, 236, 245, 246, 256, 345, 346, 356, 456
Stage 5:
Monsters:
King Slime has 8000 HP and gives 1000 EXP
For this stage, you need to eliminate the monsters which are 3 curse eyes and 6 jr. neckies and king slime. Each drops a yellow pass, so you need 10 passes to clear the stage. Make sure you collect all the passes as you kill monsters.
Make sure you clear your inventories so you have at least one use, equip and etc slot.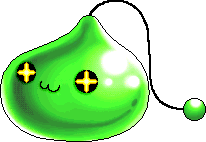 Rewards:
One of the following:
10% Scroll: Overall Armour for DEX or DEF, or Glove for DEX
Hats: Blue/Brown/Green Bamboo Hat
A random earring from level 20 to level 35
Potions, Foods & Materials
Bonus:
The bonus is just a map with horny mushrooms. To leave you click Nella and she will send you out to Kerning.
Squishy Shoes:
King Slime sometimes drops squishy shoes. They give STR +1, DEX +1, INT +1, LUK +1, Speed +3, Def +10, M. Def +5 and 5 slots

RoseBond

Existing





Posts

: 140


Join date

: 2010-01-16


Age

: 28


Location

: Nottingham, England



_________________


Similar topics
---
Permissions in this forum:
You
cannot
reply to topics in this forum